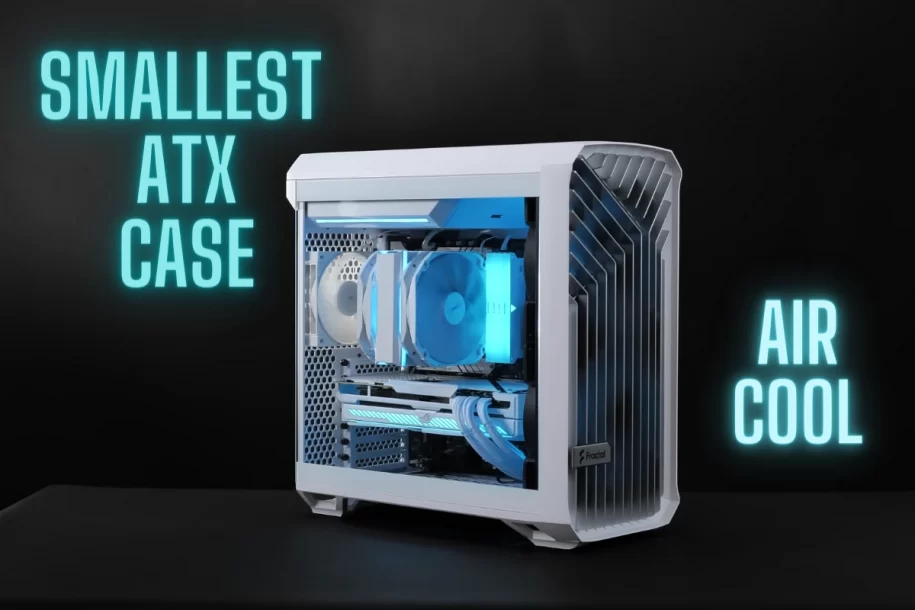 Whether you've decided to create a new PC with a small chassis for space-saving benefits or you're just changing the style and feel of your existing machine. We have simplified your setup and found you all the best smallest ATX cases that are minute, light, and can accommodate standard PC components including ATX motherboards, power supplies, liquid coolers, and full-length GPUs.
We've researched and updated our list of compact PC cases for ATX form factor setups that are presently being used by gamers and recommended by enthusiasts with an emphasis on the newest trends, mobility, beauty, cheap cost, and outstanding airflow for top performance.
There are a few limits to consider when developing a portable PC using compact ATX cases. The timid dimensions might necessitate the adoption of an inverted motherboard position, and limited space could drive integrating a twin radiator water cooling loop challenging. Also, limited drive bays and tight cable management is other common occurrence to feel restricted.
Notwithstanding this, you can still construct a beautiful smaller ATX Desktop computer with cool RGBs and an RTX GPU.
---
Why PCCores is trustworthy because our expert reviewers put in a lot of time and effort to test and compare different products and services, allowing you to make informed decisions about what is best for you. Find out How We Review
Best Smallest ATX Cases UpToDate's
At a Glance:
Cooler Master MasterBox Q500L
Best Cube ATX Case
SPECIFICATIONS
Measurements: 15.2 x 9.1 x 15 inches | Radiator Support: 240mm | GPU Length: 360mm | Included Fans: (3) 2x, 140mm, 1x 120mm | Weights: 3.83 Kilograms |
REASONS TO BUY
✓Small custom PC case for a small build for $79.99
✓A well-managed interior that can fit bigger hardware
✓Easy to build with good space for radiators
✓Adjustable for a different positioning
REASONS TO AVOID
✗The 3.5″ HD mount is unappealing, but the SSD fits perfectly
✗Only an acrylic panel option, no tempered glass
The Cooler Master MasterBox Q500Liter is not your usual size; it appears as a mini ITX case but it is teh smallest case for ATX motherboard and supports surrounded airflow through mesh openings. It has a discreet cube design that is fit for the smallest builds. We highly recommended it for its robustness, cooling, and unparalleled size for a portable rig that is easy to carry and can be oriented vertically and horizontally with rubberized thumbscrews that also function as feet.
Steel construction is of a high quality that sets a high girth for this compact chassis with a unique perforated design, allowing restriction-free airflow from the front, top, and bottom, protected by special dust filters with partners to show off goodness that also attaches magnetically. This not only makes it visually appealing but functional for easy cleaning from the outside. The inside is also a little different; the modular PSU tray location as well as the I/O port-infused panel is adjustable and can maintain a position as long as you need.
With the smallest and most lightweight chest, the MasterBox Q500L enclosure benefits travelers and can be a handy companion for RVs, thanks to its short size and vertical and horizontal desktop position compatibility. But sadly lacks RGB and has very little space behind the motherboard tray for cable routing, which may deter some consumers. If you're not into the RGB thing, it might not be such a big deal.
Lian Li O11 Dynamic Mini
Best Small ATX Case
SPECIFICATIONS
Measurements: 16.54 x 10.61 x 14.96 inches | Radiator Support: 240mm | GPU Length: 300mm (11.8 inches) | Included Fans: None | Weights: 10.9 Kilograms |
REASONS TO BUY
✓Special Snow White Edition O11D Mini
✓Great modular case with a space-saving form factor
✓Removable dust tray help maintain a clean appearance
✓Fantastic with an AIO cooler and 9 other 120mm fans
✓Clean cable management, and tuff foundation
REASONS TO AVOID
✗Does not fit standard ATX power supplies
✗Vertical GPU kit-compatible, not included
✗Does not include any fans
The new Lian Li O11 Dynamic Mini Snow White is an excellent value Mini Tower for an exceptionally clean white PC build. Lian Li improved the O11 Dynamic Mini-series with the Snow White edition with further enhancements ranging from the popular glass design to the more compact foundation remarks 'special edition' with charms of the smallest standard ATX case that doesn't compromise on looks.
We found the Snow White edition a clear winner over last year's black O11 Dynamic Mini mid-tower case, with reduced size, trim dimensions, and a much cleaner appearance for a space-saving build that looks modern while still supporting powerful hardware.
If you prioritize aesthetics, this chassis is for you, featuring ample clearance for neat cable management and with good planning, you can use the O11D Mini's capacious interior to expand your imagination, such as the ability to fit a CLC unit "Custom Loop Configurator" and being a builder-friendly choice for loads of air cooling.
On the other side of the picture, if you don't want to compromise on ATX power, this case isn't for you, suggest HTYE Y60. Despite the huge savings, Lian Li O11 Dynamic Mini SW has a few drawbacks: No compatibility for a standard ATX power supply rather that fits an SFX or SFX-L, and the congested interior makes it difficult to go for a full-strength radiator of 360mm with an ATX motherboard, but some builders manage to do so.
The dual chamber length certainly allows for a 360mm radiator with an ATX MoBo in front, but not without limitations. To use a large radiator, you will need zip ties and supported offset brackets, which may not suitable for the long run. You should rather utilize a 280mm rad or a smaller 240mm pump for smooth sailings.
Corsair iCUE 220T RGB Airflow
Smart ATX case
SPECIFICATIONS
Measurements: 15.55 x 8.27 x 17.72 inches | Radiator Support: 360mm at front | GPU Length: 300mm | Included Fans: (3), All Inline at the front with ARGB | Weights: 6.4 Kilograms |
REASONS TO BUY
✓Sleek aesthetic build
✓Uncompromised cooling with dust filters
✓High-quality RGB fans with smart lightening
✓Flexible storage options with 2x 3.5in or 2.5in drives
REASONS TO AVOID
✗Challenging good cable management
✗May sound expensive at $105, for some builders
A high airflow case is a basic requirement for gaming and Corsair iCUE 220T RGB Airflow is all about building a modern gaming rig in a small size. This is one of the finest airflow computer cases drop in the mid-tower segment and targets an audience that wants the most possible airflow even if it means loud fan noise.
Since Corsair wants to compete with Cooler Master, we have seen good quality, 3 removable dust filters, found in the bottom, roof, and front, keep your system clean for years after the build is complete. In addition to clean aesthetics, the front layout is a complete steel grill, similar to the rooftop, and it allows direct air intake while also displaying 3-inline (included) SP120 RGB Pro fans.
The only catch with this smart ATX case is that there isn't enough room for wire management, which makes it challenging for novice builders. If I understand correctly, there isn't much room between your power supply and the hard drive cage, thus I'd recommend choosing a semi- or fully modular power supply and should detach the HHD cage so that there is space for the cables to run through.
HYTE Y60
Smallest EATX case
SPECIFICATIONS
Measurements: 17.95 x 11.22 x 18.19 inches | Radiator Support: 360mm | GPU Length: 375mm | Included Fans: (3), All 120mm with 1300 RPM | Weights: 9.6 Kilograms |
REASONS TO BUY
✓Most beautiful, visually appealing, unlike any other case
✓Roomy interior for giant GPU with liquid-cooled everything
✓It looks cool, runs cooler with a unique airflow path
✓Hides all the cables in the background
✓Included PCI 4.0 Express riser cable
REASONS TO AVOID
✗Mounting holes for the 140mm bottom fans could be better
✗No RGB lighting incorporated
✗Storage possibilities are restricted
The HYTE Y60 is an eye-candy profile that offers more than just showing off your enthusiasm for amazing builds. When money isn't an issue and you want to feel affluent. The 3-piece panoramic tempered glass with no pillar allows you to see all of your pricey hardware in the same room, that can display up to a 30mm thick 360mm AIO and a maximum length GPU of 375mm, and huge mouth!
The 60Litre size is unquestionably a sweet spot for big gaming setups in half the space, and without a doubt, I've measured the HYTE Y60, and its a beast of a case, a much better alternative than the previous Lian Li O11D Mini SW, but a little on the large side and more expensive than you might expect.
If you go for it, this is smaller than full towers and you will be able to fit a maximum-size EATX board as well as all of the top gear from the coming year, such as an RTX 4080 with Ryzen 9 7950X or an Intel 13th generation i9 from Raptor Lake. Nonetheless, it will have a chance against a full-tower PC with a broad base that enables you to get future updates top-notch. This is an all-glass fancy ATX chassis for show-off.
Antec NX200M Mini-Tower ATX
Lightest ATX Case
SPECIFICATIONS
Measurements: 13.82 x 7.87 x 15.35 inches | Radiator Support: 240mm liquid cooling radiator | GPU Length: 275mm at max | Included Fans: (1), 120mm fan in the rear, RGB | Weights: 3.5 Kilograms |
REASONS TO BUY
✓Compatible with 240mm liquid cooling radiator in front
✓Motherboard support up to M-ATX
✓Capacity for expansion in tight boundaries
✓One-year warranty standard
REASONS TO AVOID
✗Wires may clutter in a tight backroom
✗ARGB is not regulated by the motherboard.
No more expenses on a good airflow case, when Antec introduces the all-new Antec NX200M, a cleverly designed Mini-Tower for clever builders. This belongs to NX Series-Micro-ATX mini tower gaming cabinet with plenty of offerings in less. The only goal is to deliver an excellent value for money build with a powerful GPU to play AAA titles on a tight budget.
All you have to do is get it and create your own PC with no effort because it is simple. Screws, zip ties, and extra standoffs for the MoBo are all supplied with the case. The big mesh design on the front panel allows for enough airflow to your gaming components while also providing good heat dissipation to keep everything inside cool.
Corsair Carbide Series 175R RGB
Smallest Mid Tower Case
SPECIFICATIONS
Measurements: 16.46 x 8.27 x 17.72 inches | Radiator Support: 360mm | GPU Length: 330mm at max | Included Fans: (1), 120mm RGB fan | Weights: 6.1 Kilograms |
REASONS TO BUY
✓Sleeper-looking minimalist PC case
✓Edge to edge dark tinted glass panel
✓Fits multiple radiators of max 360mm length
✓Compatible with motherboard RGB controls
✓No overheating with 2-slot GPU
REASONS TO AVOID
✗Supports 4 drives but cables could clutter
✗The primary feature is not air cooling
Sleeper aesthetics are difficult to ignore, and when RGB is integrated, there is no need to shy away from the Corsair Carbide Series 175R RGB Mid-Tower ATX case. It is a pure breed from a reputable new series from Corsairs. I can vouch for building an excellent minimalist system at a shoestring price.
This enclosure was created in the spirit of reliving the retro PCs in a completely new chassis with many extra functions. You can benefit from a clean and classic appearance with smooth curved edges and a polished finish.
Corsair should be thanked for creating the Carbide Series 175R so affordable, which can be assembled into a satisfyingly quiet business PC or an entry-level gaming PC. Its defining characteristics enable it to run as silently as a mouse and stand like a stiff rock in the budgetary range, which looks to be more expensive cases.
The side panel is edge-to-edge tempered glass allowing you to exhibit your system's components but don't dismiss the fact its front is closed, allowing air to flow from only the top and bottom. My suggestion is to put it on a high surface area to allow for easy ventilation.
Fractal Design Torrent Compact
Best Looking ATX Cube Chassis
SPECIFICATIONS
Measurements: 17.72 x 8.74 x 18.39 inches | Radiator Support: 430mm at max | GPU Length: 330mm at max | Included Fans: (2), 180mm large RGB fans in the front | Weights: 9.7 Kilograms |
REASONS TO BUY
✓Mouthwatering cooling system
✓Good with storage placements
✓Great design to last a lifetime
REASONS TO AVOID
✗Tough with wires
✗9.7 kg may be heavy for some builders
The Fractal Design Torrent Compact Case is a small powerhouse with a powerful cooling capacity, serving high-end users who want the strongest foundation and uncompromised cooling for the finest of high-end components. If you want a powerful setup, it's the perfect enclosure for air-cooling and RGB. It has two 180mm front RGB fans that are optimized for maximum air intake from the large open front grille.
The case is rated for compact form, however, It can fit an ATX motherboard with a 330mm GPU. The reason it has a long diameter is you can go for an extended length VGA card of 403mm radiator and even take the tallest 174mm CPU cooler. And with all of that, you can play FPS games at max settings while keeping all of your components at normal temperatures.
This is our recommended best-looking case that has killer aspects with a more discreet appearance than the sibling Torrent full-tower PC case.
Corsair 4000D Airflow Mid-Tower ATX
Smallest full ATX Case
SPECIFICATIONS
Measurements: 17.83 x 9.06 x 18.35 inches | Radiator Support: 360mm | GPU Length: 360mm | Included Fans: (2), 120mm fans without RGB | Weights: 7.8 Kilograms |
REASONS TO BUY
✓Extreme cooling potential
✓Super clean cable routings
✓Rare great feature USB-C front IO
REASONS TO AVOID
✗Vertical GPU riser cable not included
The Corsair 4000D Airflow is simply the best smallest case for ATX built in the full-tower line. I highly doubt, this lacks anything other than a stiff price. It's an airflow beast with outstanding cooling a complete mesh front and a simple building process are all the major selling points for a high-performance PC.
If we say one case recommendation, Corsair 4000D is a great small desktop case. It has ensured a straightforward upgrade route for the future. I can say a lot about the adequate performance and clean aesthetics with superb dust filters, a butter-smooth cable system beneath the MoBo, and noise suppression.
Fractal Meshify 2 Compact Black LTG
Best Compact ATX case
SPECIFICATIONS
Measurements: 17.83 x 9.06 x 18.35 inches | Radiator Support: 360mm | GPU Length: 360mm | Included Fans: (2), 2x 140 mm Dynamic X2 fans, non-RGB | Weights: 9.0 Kilograms |
REASONS TO BUY
✓Big airflow with all mesh clearance
✓Promote first-time builders, customizable interiors
✓The tool-less panel is easy as ever
✓Room for GPUs up to 360 mm
✓Huge improvement from the removable top plate
✓Insurance for a long-lasting performance
REASONS TO AVOID
✗A bit expensive
✗Not the quietest case
✗No integrated fan hub is integrated
Fractal Design Meshify 2 Compact is a solid foundation for thermally demanding minimalist ATX gaming systems that demand lots of cooling for high-end components. Meshify 2 series cases are all great for excellent thermal performance, but the 'Compact' is really what fills the needs of a space-conscious builder.
It justifies a high-performance rig with its distinctive, stealth-inspired appearance that's complemented from top to bottom. and front. With better acoustic sound-proofing than its predecessors, Meshify 2 Compact Black LTG uses encapsulated foam dust filters everywhere that sit neatly and clean easily.
Making your choice clear, its a long-term growth PC case for small builds, that also feel strong with a metallic black finish, however, do not push hard on the mesh front door, you can thoroughly clean it but not hold it like a solid front door because it is mesh, somewhat frail.
In my experience, this case is especially important for space-conscious builders to invest in a long-term build for professional work and even gamers can advantage of housing modern gear running optimally for many years to come.
Phanteks Eclipse G360A
Small Full Tower Case
SPECIFICATIONS
Measurements: 17.9 x 7.87 x 18.3 inches | Radiator Support: 360mm at max | GPU Length: 400mm clearance | Included Fans: (2), 180mm large RGB fans in front | Weights: 6.5 Kilograms |
REASONS TO BUY
✓Value your money
✓High airflow chassis with 3x PWM fans
✓A big advantage for huge hardware in little chassis'
✓Install multiple radiators at little expenses
REASONS TO AVOID
✗GPU cables route is a little oddly designed
✗Noise may be an issue at high loads
Even if it feels noisy, Phanteks Eclipse G360A is affordable and well-packed with a sturdy cooling solution. The complete mesh opening at the front is preferable over a modular design when an RTX is at stake. Its well-cooled interior is purposed for beefy components, uplifting the smallest ATX build to an ultra-fine performance.
PC enthusiasts, gamers, and editors are ecstatic to have this case in their arsenal since it allows standard-sized gaming hardware to fit optimally within the cleverly engineered room which takes even the huge GPUs up to 400mm long, alongside a standard 360mm AIO liquid cooling block.
To my notice, there is no other PC case that offers equivalent functions in such a small container for the price of $100.
Will micro ATX fit in ATX case?
Yes, the smaller form factor of a micro-ATX motherboard makes it compatible with a standard ATX case. This allows for benefits such as improved airflow, additional drive bays, and more space for upgrades, such as a larger GPU or water-cooling radiator. Micro-ATX motherboards have dimensions of 9.6 inches x 9.6 inches, as compared to the 12 inches x 9.6 inches of a standard ATX motherboard. This means that even the smallest ATX cases can accommodate an M-ATX motherboard without any issues of incompatibility.
Is ATX good for gaming?
ATX motherboards are a great option for gaming PCs. Many high-end ATX motherboards include outstanding features like adjustable RGB lighting, multiple expansion slots for multiple graphics cards, overclocking CPU support, and quad-channel high-speed memory compatibility. In this regard compatible ATX PC cases are appropriate for high-end workstations and enthusiast-level gaming setups since they are less bulky than Extended-ATX (EATX) cases and have more capacity for standard components than MATX chassis.
What are the four main ATX sizes?
Mini-ITX, Micro-ATX, ATX, and E-ATX are the four common ATX sizes. The Mini-ITX motherboard form factor is the smallest, often measuring 6.7 inches by 6.7 inches. The Micro-ATX form factor is significantly bigger, measuring 9.6 inches by 9.6 inches. The usual form factor is ATX, which is 12 inches by 9.6 inches. The E-ATX form factor is the biggest, measuring up to 12 inches by 13 inches. Each form factor has its own set of capabilities and expandability choices, with Mini-ITX being the most compact and E-ATX having the most expansion options.
Which ATX is the smallest?
The mid-tower ATX case is the smaller of the two popular varieties of ATX cases, which are full-tower and mid-tower. Mid-tower ATX cases are normally 17-18 inches tall, 7-8 inches wide, and 15-16 inches deep, but full-tower cases are bigger and have dimensions of 22-24 inches tall, 8-9 inches wide, and 20-22 inches deep. This indicates that full-tower cases are larger than mid-tower cases.
Does ATX size matter for PC casing?
It is important to consider the size of the case when choosing a PC casing, as it can affect the compatibility of the components and the overall functionality of the build. The ATX form factor is available in a variety of sizes, including EATX, standard ATX, mATX, and mITX, with each size offering different dimensions and capabilities for a compatible motherboard form factor. The EATX case size is the largest when compared to regular ATX, the MATX is smaller than ATX, and ITX has the most miniature factor of all.
Conclusion
Opposing the bulky rigs, you can choose the best smallest ATX cases from the above selection to be able to build a manageable gaming PC in a low profile. The appealing 'Compact Mid Towers' stems from their ability to fit into any space. You may squeeze powerful GPUs and robust cooling systems into compact durable chassis to build a small rig that looks not only fancy, interesting, and attractive with full panoramic glass fronts, but you can also obtain the best airflow with modern looks at the time.