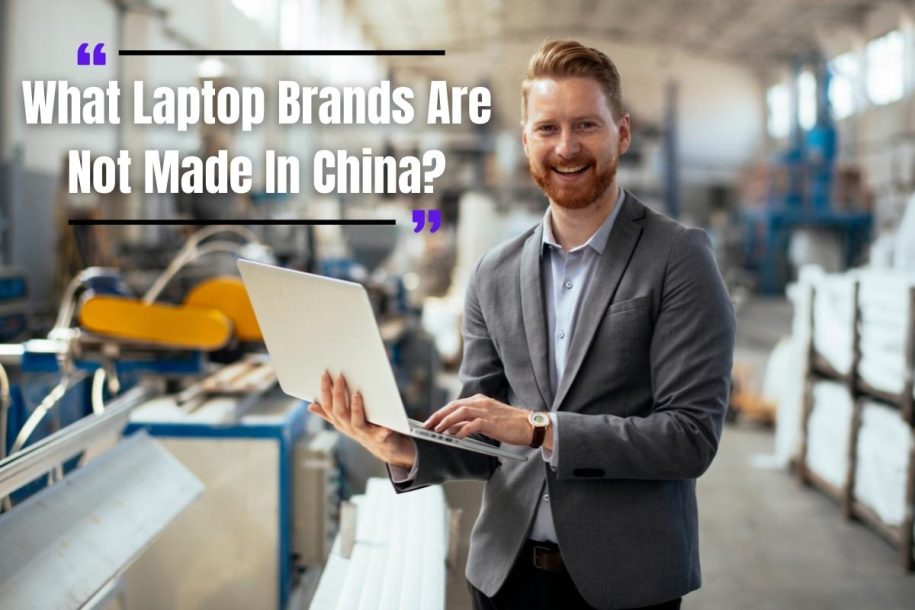 I've compiled a list of laptop brands that are not made in China but instead manufactured by factories in other nations including the USA, Japan, Korea, Thailand, Malaysia, Taiwan, India, and the Philippines. Though huge tech corporations mainly rely on China, things have changed following the pandemic, and most computer brands have relocated away from China for two reasons: The Chinese steal their trade secrets, and there is no more value in cheap labor.
These are all the laptop brands that are not made in China:
Samsung: Almost 95% of Samsung products are manufactured in South Korea.
Fujitsu: Fujitsu laptops and PCs are all manufactured in Japan.
Vaio: All Vaio computers are manufactured in Japan.
LG: All LG products, including the LG Gram laptop, are manufactured in Korea.
Microsoft: Following the Pandemic, Microsoft intends to produce laptops in the Southeast Asian regions.
Toshiba: Everything from electronic slates to laptop computers is manufactured in Japan.
iball: The iball is an Indian computer manufacturing firm located in Mumbai.
Panasonic: It is a Japanese brand located in Japan with the famous (Kobe factory).
Sharp: It is another laptop manufacturer based in (Sakai-Ku), Japan.
Major Laptop Brands Rely on Chinese Labor; Made in China Laptops
Apple: Apple manufactures 90% of its products in China.
HP: The Hewlett-Packard corporation manufactures laptops in China, but also assembles Computer Servers in the United States, Thailand, Malaysia, and the Philippines.
Acer: Despite having operations in Taiwan, Germany, Mingachevir, and Azerbaijan, Acer is the largest made-in-China brand.
Dell: While Dell's servers are assembled in the United States, the majority of its laptops are manufactured in China.
Asus: With the biggest investments in manufacturing, Asus has laptop assembly factories in the United States, China, and Taiwan.
Lenovo: After Apple, Lenovo has its largest production plants in Chengdu and Hefei, China, as well as in Japan.
MSI: MSI manufactures its Aegis and Codex desktop computers in Kunshan, China, but also in the United States.
Razer: Razer is based in Irvine, California, and Singapore, however all of its products are manufactured in China.
Are China-Made Laptops Durable and High-Quality?
The quality of Chinese-manufactured laptops has been heavily debated, they produce both high-quality and lowest-quality products, so, it depends on brands to choose the RAW material of either high quality for expensive products or cheap quality to save money with low-quality laptops.
So the quality of Chinese laptops does vary depending on the manufacturer, but in general, they are not as high-quality as laptops made by Japanese, Korean, American, or Taiwanese. This is because Chinese manufacturers often cut corners to keep costs down.
Is Every Laptop Made In China?
The answer is a loud 'Yes,' practically all laptops are now made in China, with a very tiny percentage being shifted to other countries, and major brands such as Apple remain reliant on Chinese production. This is partly because China has become the world's biggest manufacturer of consumer electronics. After all, many reputable companies outsource labor to them.
Such brands are Apple, HP: Acer: Dell, Asus, Lenovo, MSI, Razer, and many others.
Advantages of Chinese Laptops
Readily available
Cheaper than others
Latest Technology
Competitive hardware for the price
Parts are easily available
Disadvantages of Chinese Laptops
Low-quality control
Durability issues
Many Counterfeit
No after-sales support
Is Quality Compromised When Laptops are Made in China?
Yes, there have been concerns that quality may be compromised when products are manufactured in China. But it depends on the brand's choice to go for the cheapest parts available or buys the most quality parts possible for their products. That is how Apple and Asus have insisted that their laptops meet the same high standards regardless of where they're made.