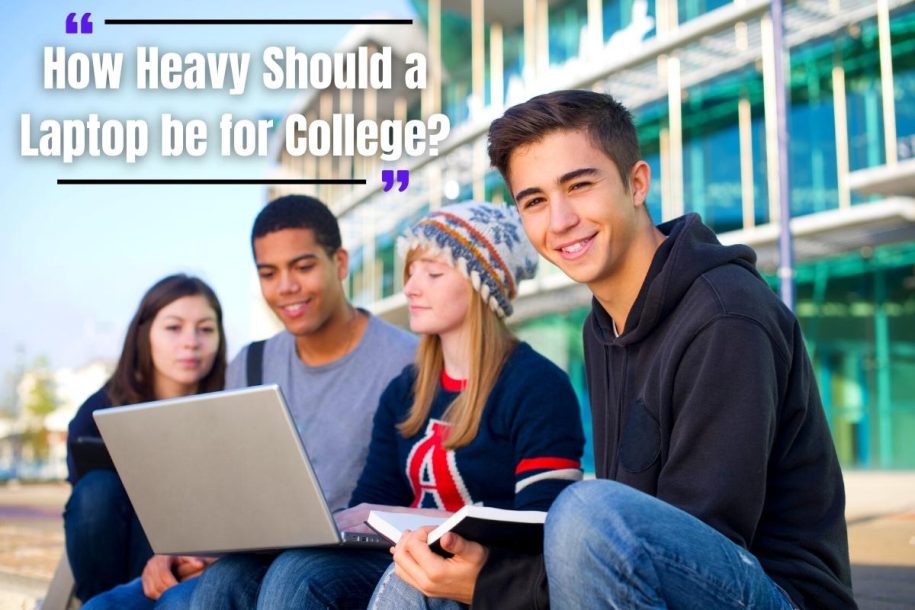 When it comes to college laptops, one of the most crucial factors to consider before making a purchase is weight. The weight of the laptop in a backpack should be known by the student. And also it's a long-lasting battery to get going studying for at least 8 hours on a single charge. So you must exercise on weight, but you cannot overlook the fact, lightweight and thin laptops cost extra, and usually, the biggest gripe is battery life, so you know which is the perfect weight for lifting that is also a light on the pocket, not overly expensive.
A college laptop weighing 1kg to 2kgs (2.2 pounds to 4.4 pounds), can be a perfect weight for a college student to carry from classes and libraries to back home, but anything bigger than 15-inch like a 17-inches laptop, will not fit comfortably, not just they are chunky, but they are also overweight with an average of 6.2 pounds. And it would bulge the backpack along with all the books and other study materials, which is weird, and uncomfortable.
How Heavy is too Heavy for College Laptop?
Heavy laptops can be a pain to carry around campus, but how heavy is too heavy? Laptops that weigh more than 5 pounds may be too much for students because heavier laptops can cause neck and shoulder pain, and they're also more difficult to carry around with a power brick (charger) and all that bulk of books.
It is wise to go for a 2.2 to max 4.4 pounds laptop for college, which is a preferable range, but ultrathin and light laptops are not always cheap, plus fast components make them an expensive option, which is truly a benefit for uncompromised studying with long battery life, but they vary on your pocket size, how much you want to invest, because a good laptop costs anywhere between $800 and $2000, so those who need lightweight laptops should be willing to pay more.
There are various viewpoints on laptop weights, but a current guideline for a durable and premium-looking laptop is that it's not too heavy to tote around, but it's also not too light that it seems cheap and fragile. The recommended weight for a college laptop is 56 ounces, and 70.4 ounces maximums. This is a decent weight that will give you the sensation of a robust laptop while not being too hefty to tote about.
Is a 1.8Kg Laptop Heavy for a College Student?
If you are a college student, you should know that portability is important for a laptop, and if it weighs between 1 kg and 2 kg, you are good to go. This is the recommended weight range for many professionals such as Cricut maker machine artists, lawyers, designers, and artists who need to carry a laptop, a 1.8Kg laptop is not heavy by any means, and it is not bulky for a college student to carry in hands or in a backpack, it's perfect.
If you take an interest in choices, most lightweight laptops, such as the Asus Vivobooks 15 and ZenBooks 15, weigh 1.1 kg to 1.6 kg, and the Dell XPS 13 (2022) has good measurements with a thin and light weight of only 1.23 kg, which is good, and similarly, the HP Elitebook 840 G6 laptop weighs 1.48 kg while their gaming series HP Victus has a beefy weight of 2.46 kgs, but what striking is the new Apple MacBook Air (M2) 2022, that weighs only 1.24 (2.7 pounds).
So, where you go relies on your budget and how much you need to make it sound, last longer, or for a shorter amount of usage, because battery and high-performance chipsets are extra measures to count on for acquiring chunks of weight. In my experience, lightweight ultrabooks with AMD technology are the best fit at this time; they are the quickest, most advanced, and least power-hungry, so the battery will not drain faster and you will have a long-lasting experience.
What makes your Laptop Heavy? Cut Weight
Some laptops weigh more than 5.6 pounds because of the addition of optical drives, HDDs, and charger bricks which cost weight, and especially if it is a gaming beast, you will find not one but two charger bricks that add extra weight for making it a tank.
If you don't need an optical drive, you can save some weight by choosing a laptop without one and if exists on your current laptop, you may remove it and opt for lightweight storage options like installing an M.2 SSD, which benefits faster boot times and it cost less weight. You can also save weight by choosing a non-gaming laptop with single charger options.
Is a 2.2 Kg Laptop Heavy for College?
A laptop is a necessity for most students, but with the growing popularity of tablet computers, is a 2.2 kg laptop still heavy? For students who are taking only classes that are offered online or have no physical lab component, then a tablet may be all that is needed.
But for students who need to take notes in class or use software that is not available on a tablet, then they will need to bring a laptop to class.
For the average college student, a 2.2 kg laptop should not be too heavy to carry around campus. However, students who have back problems or other health issues may want to consider getting a lighter laptop or using a tablet instead.
Are 5 lbs Heavy for a College Laptop?
A laptop is a college essential, but with all the extra features and technology, it can be quite heavy. So, is 5 lbs (2.26 kg) too heavy for a college laptop?
It depends on what you're looking for in a laptop. If you need something lightweight and easy to carry around, then you might want to consider a sleek laptop.
However, if you don't mind carrying around a little extra weight and are looking for more processing power and storage, then a 5-lb laptop should be just fine.
When it comes to weight, there are lighter options out there, but that doesn't mean that 5 lbs are too heavy. With the right backpack, it shouldn't be a problem to carry your laptop around campus.
Do I Need a Laptop for College?
A laptop is a great asset to have while in college. It can be used for note-taking in classes, doing research for papers, and studying for exams. Many professors now require students to have a laptop for in-class use, so having one is essential.
If you do not already have a laptop, there are many affordable options available. You can find laptops starting at around $400 that will meet your needs for college.
Another option is to buy a refurbished laptop. Refurbished laptops are those that have been previously owned but have been restored to like-new condition.
They are often cheaper than buying a new laptop and can still come with a warranty. Buying a refurbished laptop is a great way to save money and get a quality device that will last through your college years.
What Size Laptop is Good for College?
A laptop is a must-have for any college student. But what size is best for you? A small laptop is a perfect choice for students who need to carry their computers with them everywhere they go.
A compact and lightweight laptop is perfect for students who need to keep up with class work and take regularly to class for notes and work on papers at the library.
If you need a computer that can handle more intensive tasks, like editing videos or playing games, you may want to consider a larger laptop that has dedicated graphics cards.
However, these laptops can be a bit bulky and difficult to carry around campus. Ultimately, the best size laptop for college depends on your individual needs and what you plan to use it for.
A 17-inch laptop is the largest dimension that modern laptops offer but it can be too wide and heavy. Comparatively a 15-inch notebook is the standard size, however, for students a 13 inches laptop is ideal for students and office workers to get started with an essential laptop.
Do Colleges Have Laptop Requirements?
Students commonly bring their laptops to class, whether the professor has asked for them or not. Professors are starting to ask for laptops to make the learning process more interactive.
Several colleges have a laptop requirement for students, but some colleges allow students to bring in any type of device they want.
Similarly, laptops are not required at most universities, but they are recommended. There are pros and cons to having a laptop requirement at a university.
On one hand, it can be helpful for professors because they can give students assignments that need to be turned in electronically.
It is also helpful for students because they can take notes on their laptops and have easy access to the internet if they need to do research for a paper.
Do Colleges Require a Certain Laptop?
There is no definitive answer to this question as colleges and universities may vary in their requirements. However, most institutions of higher education do recommend or require a laptop with specific features.
For example, laptops used in college classrooms are typically required to have a webcam, microphone, and full-sized keyboard.
In addition, many schools recommend laptops that include specific software programs, such as Microsoft Office or Adobe Creative Suite.
What Size Laptop is Best for University Students?
When you're choosing a laptop for university, there are many things to consider. But one of the most important factors is size (dimensions), weight, and performance. So what's the best size for a laptop for uni?
There are three main sizes to choose from: small, medium, and large. Small laptops are around 11 to 13 inches, medium laptops are around 14 to 15 inches, and large laptops are 16 to 17 inches.
Small laptops are good for people who want something lightweight and portable. They're perfect for taking with you on the go, but they may be too small if you plan on doing a lot of typing or working on projects.
Medium laptops are a good option for people who want something that's not too big or too small. While large-size laptops are the choice of users with specific needs for a large display, and other hardware requirements.